There are no more items in your cart
Shipping

Free

Total

€0.00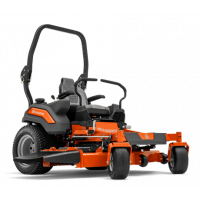 Zero-Turn Mowers
The zero-turn steering system essentially means turning on the spot. An individual, hydraulic wheel-drive provides your zero-turn mower with precise manoeuvring and allows it to rotate around its own axis, without the turning radius and uncut areas being left behind.
Thanks to the vibration-isolated platform, the Husqvarna Zero-Turn Mower will give you a pleasant ride too. Rubber isolators set your hands, body and feet apart from the frame, which means less fatigue during operation and ergonomic operations at all times. The robust, pedal-operated deck lift system enables you to operate your machine
Sorry for the inconvenience.
Search again what you are looking for